This is the BCCMC Social Calendar for 2023. If you want to coordinate an event please let us know by emailing [email protected] All it needs to be is something that you would like to do that may be interesting to other club members. When you let us know we will announce the activity through the Club Activities Calendar on this Website and email blasts. We want to have as many activities as possible on our calendar so everyone can find something to enjoy. Our LBC's need exercise so let's get out and drive them as much as possible. We are relying on you to help sponsor events throughout the year. We look forward to hearing from you!
Club Drive / Meeting May 6, 2023
at Camden Revolutionary Park 212 Broad St, Camden, SC 29020
Bring your food, drinks and chairs. We will meet at 10:00AM at the JCPenney / Sandhills off of Clemson Road parking lot and drive to Camden. After lunch will be on your own tours of Park and Ground. Route to Camden Revolutionary War park to be decided.
This event has been canceled until Monday 5/22/2023
Due to the potential for inclement weather, at least through the early morning hours tomorrow, we have decided to call a rain date for Monday, the 22nd.  Everything else remains the same, caravan times and locations etc. 
The weather for Monday looks good and maybe even a little warmer.  Hopefully this doesn't inconvenience anyone.  SEE YOU MONDAY!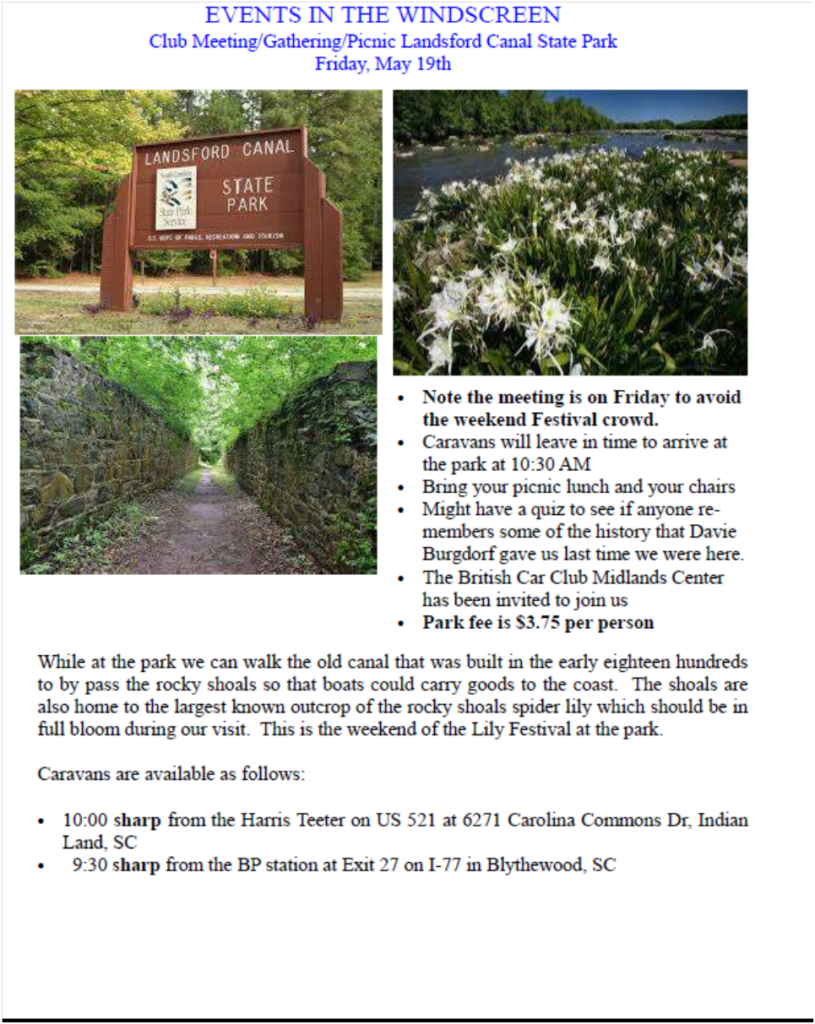 Club Drive May 19 2023 Here is an opportunity to view the Rocky Shoals Spider Lillies in bloom.
For more info on them please visithttps://southcarolinaparks.com/see-and-do/wildflowers/lily-fest this is the largest group of them in the US. It is well worth the drive even if you are not a flower person. This is always a fun trip. We will be joining Carolina's Austin Healey Club at the park. If you have a SC State Park Pass, you get in free. Bring your chairs and meal of choice and whatever you want to drink. There are restrooms at the park.
June 3, 2023 Club Meeting at Harbor Seafood Inn 7375 Two Notch Rd. Meet in parking lot at 10:30 AM for socializing, go in to eat at 11:00
July 8, 2023 Club Meeting Note This is second Saturday because of 4th of July at Di Prato's Delicatessen 342 Pickens St, Columbia, SC 29205 meet in parking lot at 9:30AM for socializing and go in to eat at 10: 00
August 5, 2023 Club meeting Lizard's Thicket 10170 Two Notch Rd, Columbia, SC 29229 in Target Shopping Center. Meet in parking lot at 9:00 AM for socializing, go in to eat 9:30
September 9, 2023 Club meeting Note This is the second Saturday because of Labor Day Holiday Hudson's Smokehouse BBQ 4952 Sunset Blvd Lexington, SC Meet in parking lot at 10:30 AM for socializing and go in to eat 11:00 AM
October 7, 2023 Club meeting TBA
13th Annual Great Scot! British Car Show Saturday May 27, 2023
Early Registration Fee $35.00 Entries must be no later than May 15, 2023 Registration after May 15, 2023 or day of show $40.00
Britfest Saturday, Oct. 7, 2023
Lexington VFW Car & Bike Show Saturday July 8, 2023
July 8th, 2023 $25 Entry Fee
Time: 10am-2pm Registration & Setup
Location: VFW 8738 Starts @ 9 am
424 Cedarcrest Dr
Lexington, SC 29073 803-359-8738

Food Plates Chicken Leg Quarters with 2 sides
Cost: $10 (Plate)
50/50 raffle
People's Overall Choice, 1st, 2nd, & 3rd Place, Best Truck, Motorcycle, Oldest Car & Chairmans Award
Pre-Register at Post Day of Event or Before (Reg Form at Canteen)
Post Open Mon-Fri 3pm-12am, Sat 12pm-12am & Sunday 12pm-9pm
Car/Bike Show Registration Form 2022
Name:
Email:
Phone #:
Vehicle Type:
PD: Taken By: Date:
Car/Bike Show Registration Form 2022
Name:
Email:
Phone #:
Vehicle Type:
PD: Taken By: Date: